In an era where the eye test seems obsolete, advanced analytics don't do former Duke basketball star R.J. Barrett justice. It is only a matter of time before people see why the newly drafted Knicks guard is more prepared for the bright lights then his former partner in crime.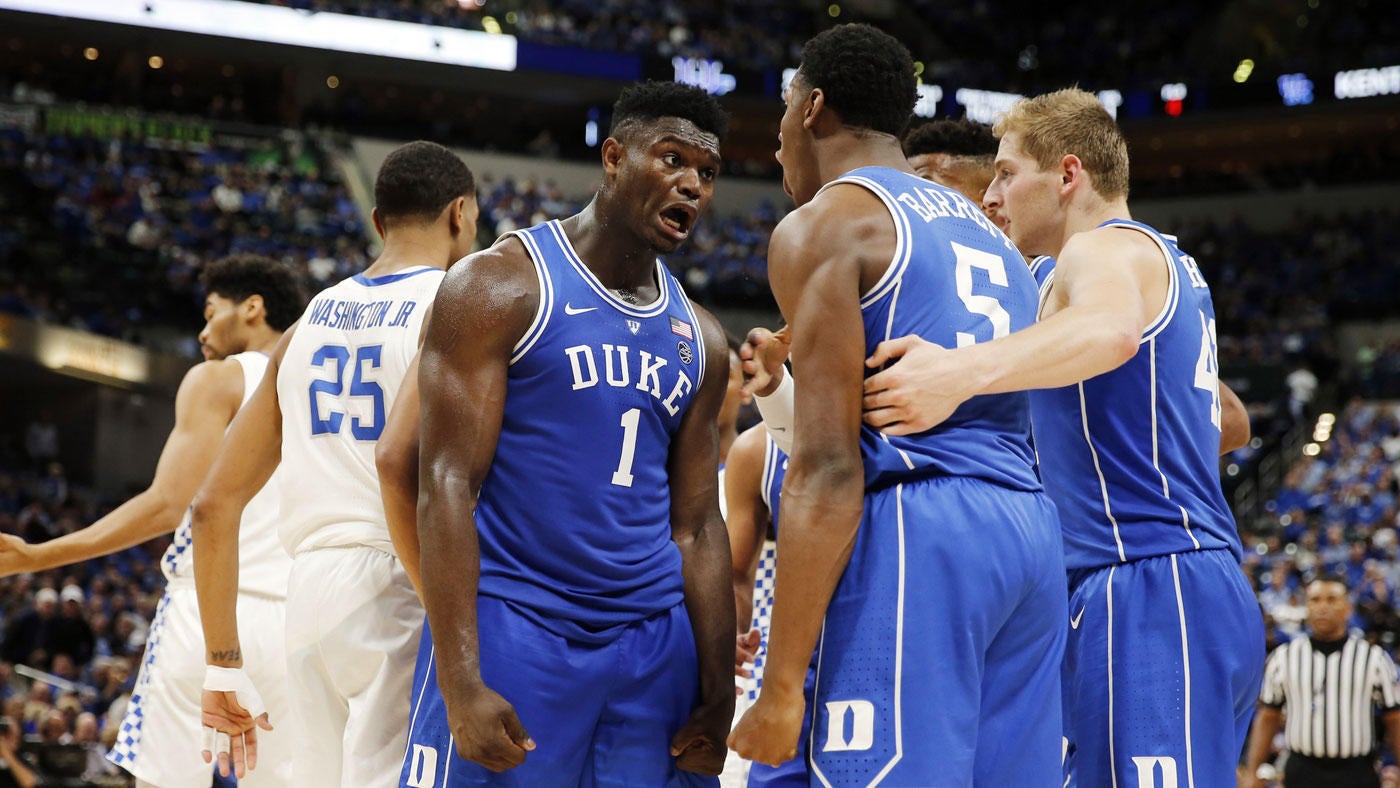 In July of 2017, something unimaginable in the basketball world happened. The United States basketball team lost in a world tournament. Although it was a U19 team in FIBA, it was still very shocking to someone who follows all levels of USA basketball like I do. The USA team included the likes of Carsen Edwards, Cam Reddish, Kevin Huerter, P.J. Washington, Romeo Langford, Kevin Knox, Josh Okogie, and Mitchell Robinson (just to name a few). USA lost to team Canada in the semifinal 99-87. It was the most watched game of the tournament and arguably the best game of R.J. Barrett's career. That's when I knew. It's when I knew he was going to be one of the most special young basketball players I have ever seen (and yes I'm not that old). The then 17 year old had 38 points, 13 rebounds, and 5 assists. Although his advanced stats were fantastic (a 40 efficiency rating and a +/- of +14), most of his performance could never be measured by statistics.
Let me start by justifying my… let's say credibility… for the claim I have made. I have been a huge Duke basketball fan by entire life. Before you click off rolling your eyes due to the hatred you probably have for Duke, hear me out. I have watched every Duke basketball game since the 2011-2012 season. These last 8 years as die hard fan have been a lot of fun; especially considering they won the title in 2015. I watched Duke basketball before the one-and-done and am now living through it. I have watched every game post Kyle Singler, every 1st and 2nd round exit in the NCAA tournament, and almost every iconic ACC one-and-done player after Kyrie. From the pinnacle fan moment of winning the national title, to the rock-bottom in-and-out/what-could-have-been bank shot by Grayson Allen that would have sent Duke to the final four. I've seen it all. So in other words, I am not the typical bandwagon Duke basketball fan who watches the two UNC games and a few tournament games and calls it a season. I watch all of the recruits in their AAU circuits and high school games that are aired on TV as much as possible. With all that being said, let me make my case.
Before the 2018-2019 season started, myself along with a lot of Duke fans were wondering whether Zion could do more than just be a freak athlete and a highly above average transition player. Because, in fact, he did play against mediocre high school talent at best. He had quite a few injuries in the AAU circuits so I did not get to see as much of him as I wanted. Heck, he even had a finger injury during the McDonald's All-American game. So yeah, the skepticism was real. However, when I watched him play in Duke's Canada preseason tour, I was mesmerized. He did everything… and a whole lot more. He was instantly one of the best rebounders I've ever seen, one of the best shot blockers I've ever seen, and had a better second jump off of an offensive rebound than Marvin Bagley III (which I didn't think another college player would for a while). Zion is clearly very special, I am not denying that. He kept Duke in their Elite 8 game against the Spartans nearly by himself in the first half and played one of the best games a college player has ever played in the ACC quarterfinal against Syracuse.
So yeah, Zion is amazing. On and off the court. Did I mention he swept every single NPOY award? I understand why the consensus is that he is the next big thing. I, however, am all in on Barrett. In fact, I think R.J. will be a clear cut better pro than Zion. So why do I think R.J. should have been the #1 pick? Why should it have been him over this generational athlete; the guy who plays like someone we have never seen before?
Part of my reasoning is because I saw something most of the college basketball community didn't: the 6 games Zion Williamson didn't play after his infamous shoe injury. He injured himself 30 seconds into the first game against Carolina. That game lost almost half it's viewers after it was reported he wasn't going to return. If you could guess what other 4 nationally televised games were the least viewed for Duke last season, I bet you could guess which 4 they were (2 of the 6 he missed were played against UNC which always get high viewership anyway). So I know for a fact people did not witness what I did over that stretch.
What R.J. did in those 6 games without Zion was show the highest level of a will to win I have ever seen on a college basketball player in my lifetime. The one exception I could think of would be Cardiac Kemba. R.J. was on that level. His performance against Syracuse, Virginia Tech, and North Carolina on the road was something else. At this point, most of you are probably scrolling through the box score real quick to look at his numbers in those games and thinking to yourself "10-27? how is that an above average performance?" Let me give you an example
The game when Zion got poked in the eye, they played on the road at Florida State. Zion did not play the entire second half. R.J. completely took over. Yeah, he scored a lot using his versatile skill set. But it's what he did in the final stretch of that game that allowed them to win. When Duke had a chance to win with an out of bounds play under the basket, everyone in that building knew who was going to get the ball; the guy who played all 40 minutes and had 32 points. The only problem was, nobody actually got it right. The play was drawn up around Barrett. R.J. faded to the corner after a little slip screen from the block, knowing he would draw at least two defenders. That allowed a back screen for Cam Reddish to curl and fade to the three point line to be wide open. When I say wide open, I mean he could have signed the ball before anyone was even near him. He hit the shot and Duke won the game. Yes, Reddish hit the shot, but it was R.J. who allowed for him to be wide open. It was R.J. who wanted Cam to get the ball; who wanted to win even if his hot hand wasn't the guy to get it done.
Still not buying my logic? Let me debunk the "ball-hog" notion that surrounded R.J. all season. The notion that apparently played him out of being the number one pick, according to some. If I were to ask how many people reading this could name me 3 non-freshman players on Duke's roster, how many would be able to? Duke fans aside, probably not a lot. So let me help you name them. Without Zion Williamson, here's the guys who R.J. had to help him score.
Before I get into the players I am not AT ALL trying to be negative about them. Because each player, especially this past season, was very good at their role. Obviously, most of them were not scorers. I love all these guys and all they contribute to the program. I am extremely excited about these returning guys this upcoming season. So here's what R.J had once Zion went down
Cam Reddish and Tre Jones were the two most talented players R.J. had around him at the time of the injury. Reddish was so inconsistent that he became unreliable. His occasional Paul George-esque step back jumpers gave the fan base hope of a leap… a leap that never really came. This led him to become one of the biggest enigmas in the draft. Tre Jones's role on the team was to pass first and put immense pressure on the ball (both of which he did exceptionally well). But he too was not a reliable scorer. He would hit elbow jumpers occasionally and was wildly inconsistent from 3 point range. But again, he and Reddish were not consistent scorers. But what about the other guys? Couldn't they take the load off of R.J.? The captains, Javin DeLaurier and Jack White, were both good in their respective roles; both of which were not scoring. Once upon a time White was a good perimeter shooter during the non-conference before having a nightmare final 3/4 of the season from deep; missing over 30 straight from beyond the arc at one point. During that time he was predominantly used for rebounding and was basically a non-factor in March. DeLaurier is a defense-first player who could lose in a shooting contest to any 12 year old AAU shooting guard in America; 3 point and free throws (he is also my favorite player because of his undoubted hustle and ability to lead. However, he couldn't hit water if he fell out of boat). Marques Bolden was plagued with injuries his entire career and never really recovered well. I thought he was looking up after the Auburn game in Maui when he blocked every shot imaginable and was beating the eventual final four guards of Auburn up the floor on fast breaks. However, he got hurt in the road game at UNC late in the year and did not get going until later in March and was not nearly as effective (which is a shame because he was the clear-cut starting center before he got hurt his freshman year).
The guards should be different right? Guys who can really shoot the ball and allow R.J. to attack downhill and have someone to throw it too when he can't barrel his way through? Well Jordan Goldwire is a defense first guy who, actually, peaked at the right time. He air-balled, I think, every three point shot he took during the regular season and his percentages were atrocious. He doesn't have the ability to create his own shot and is not your typical score-first college guard. However he played exceptionally well from the Louisville game on and should make a leap this upcoming year. Alex O'Connell is a tall, lanky, and surprisingly super athletic shooting guard who has an elite catch-and-shoot jumper. Unfortunately, this helped R.J. once during the best case scenario for a catch and shoot guy; playing against the 2-3 defense of Syracuse where he had 20 points. However, every time he had to dribble the ball, he looked like Stanley Hudson on his best day out there. So when they played tight defense on him, he too was not effective. The guys not mentioned like Baker, Vrankovic, and Justin Robinson did not play enough to be mentioned.
That was a long list of player profiles all to prove one point. In a way, doesn't it make sense why R.J. had to take so many shots? He was truly the only guy who was consistently able to create his own shot. In games where he wasn't being double teamed, his assists numbers went up. Being ball-dominant does not make you a ball hog. All I am saying is he HAD to take that many shots to give Duke a chance to win those games.
I am also not saying him taking 25 shots a game makes him so special. What makes him special is willingness to fight and leave everything he has on the floor. You can teach someone how to make free throws, how make threes, make mid-range shots, and teach schematics and x's and o's. What cannot be taught to any athlete on any level is how to be a winner. Aside from this, his stats were also very good. 23 points, 8 rebounds, and 4 assists is pretty good for any freshman, let alone any player, playing in college basketball's best conference. All I heard after the season was how R.J. played himself out of being the top pick. How in the world did he do that? That's right… by being a ball hog.
He led the charge when Zion went down. Without him, Duke would not have won their games against Florida State, Syracuse, Wake Forest, national champion Virginia (twice), and probably other games. He did it all with guys who nobody would consider even average collegiate offensive players.
I saw it when he won the national championship in high school. I saw it in FIBA when he was 17. I saw it at Duke on the biggest stages against the best college players. Now, I will see it under the bright lights of the the city that has been plagued with horrible ownership and a fan base desperately awaiting someone to be their savior. New York fans, you have your guy.
Yes, Zion has the will to win too. But I do not get the same feeling watching Zion that I do watching R.J.. For me, it is strictly my eyes and senses telling me. They tell me that R.J. shows the will to win qualities more than Zion does.
As I said before, most of my arguments are based on eye test and not analytics. But what about logic? Let's take a second to logically look at Zion Williamson at the next level. Doesn't logic seem to say a guy his size, who jumps that high and that powerfully, is bound to play in the league for only a decade. Maybe less? Have guys like him had long NBA careers?
Before you start screaming names like LeBron, Shaq, and Shawn Kemp, think about it. We have NEVER seen anyone like Zion before. The guy weighs over 270 pounds. Wouldn't it make sense to assume logically that at an 82 game pace his body will eventually break down at a faster rate compared to most? Especially quicker than R.J.'s? Part of my reasoning is I don't think Zion will be able to play nearly as many minutes as R.J. throughout his career. R.J.'s body type is similar to that of Vince Carter, a guy who has been around to play in 4 different decades. It makes sense to assume R.J. will be better for much longer.
R.J.'s full talent was put on display during his summer league games. He did, as most people love to point out, struggle mightily his first 2 of 4 games each team gets before playoffs start. In the 4 "regular season" games of the summer league, despite the struggles, R.J. was the only player with at least 50 points, 35 rebounds, and 10 assists. He has better talent around him now and started to show how elite he can really be.
I truly believe that over the last 8 years of Duke basketball, R.J. Barrett is the best I have seen. The analytics, although are great, cannot compare to the stat that cannot be measured; the will to win. Zion, of course, has it too (as I said before). R.J.'s is just on a different level. He is the son of the guy who is Mr. Canadian basketball. He is the godson of Steve Nash, one of the best floor generals to ever walk this planet. He was by far the best high school player in his class for years. He led Canada to a FIBA U19 title at 17 years old. He was the go-to guy at Duke. He is a winner. Every time I watched him I just got the feeling that this kid would die out there if it meant his team could win. Bold Take: The Duke team would have had a better record with a whole season without Zion, then a whole season without R.J.. In other words, R.J. had more impact/was more important than Zion. The eye test is the reason R.J. Barrett will be better than Zion Williamson.
My final point elaborates on the eye test vs. analytics thing with a familiar example. It seems a new trend of people slamming Kobe Bryant over advanced analytics has been born. These ridiculous people on First Take and all these other terrible shows are saying he is not even a top 20 guy of all time due to the amount of missed shots and inefficiencies he had. For years people talked about Kobe as right there with MJ. I know a lot people in their 20s might say he is better than LeBron and Duncan. This is outrageous to say… if you look at it from an analytics perspective. Using that lens he was incredibly inefficient and did miss the most shots in the history of the league. But it was what we watched with our eyes that made him superlative. It was watching him in those Western and NBA Finals. It was watching him win 5 titles and literally sacrifice every part of his body to do it. He might have missed the most shots in history, but he will ALWAYS be my pick to take the last shot. Want to know why? Because Kobe Bryant was an absolute dog with the heart of a champion. Having the heart of the champion is immeasurable stat I saw in R.J. Barrett in July of 2017. It's what I saw all season at Duke. It's what I will continue to see as his career opens up as the new guy in New York. I promise, New York, you got your guy; you got your winner. Despite the countless highlight dunks, blocks, and fast breaks of Zion, the Maple Mamba will fly, to the shock of many, higher than Zion ever could.