Credit: USAToday.com
We are less than a week away from the restart at the Orlando bubble. 8 regular season games to go and it will be interesting to see how the standings change and what will happen come playoff time. Some of the top dogs still have major questions to answer and lineups to play with. Will it be the Bucks, Lakers, or Clippers? Perhaps a dark horse can pull together a month of good play and steal it? Should there be an asterisk next to the winner? Let's take a look at the biggest question in the East before the restart.
Are we sure the Bucks are going to roll through the East?
Do I think the Bucks are probably going to go the finals? Yes. But there are 3 teams that have a shot to challenge Milwaukee if given the chance. With no home-court, it is completely possible. Looking at the Bucks regular season this year they are historically good. They have the league's best defense (by a mile) and have done it in an extremely unconventional way. They give up the most three-pointers in the league at a staggering 38.6 a game. That is a very very very high number. A few years ago, taking away the 3 was considered to be crucial to success. Now, for the Bucks, allowing teams to let it fly has become a hallmark to their success. They aren't the only good defense allowing a lot of threes. Toronto, who is 2nd or 3rd in defense depending on where you look, gives up just as many threes a game at 38.5. Two more top 5 defenses in the Clippers and Celtics give up a whole lot too. But why is this is working and should we expect a team who shoots well from three to knock them out? The answer to the latter is no but how come the Bucks can get away with this?
One thing we have to understand about Milwaukee is how much of a load Giannis really takes on. It is quite impressive that even with him off the floor the Bucks are still nearly 5 points better than their opponents. But when he is on the court, they are just over 16 points better. This is the widest margin in the league among the top players and has allowed the Bucks to run away with leading the league in point differential. To summarize these stats, it basically means that Giannis has been used so much on both ends of the floor (being the most likely DPOY and MVP which has only been done in the same season by Jordan and Hakeem) that his teammates are so incredibly fresh when they are needed. Coach Bud does a nice job of allowing the shooters to spread the floor while Giannis attacks 4 defenders at once. Here's the problem: are we sure their crunch time lineup will be able to get it done? The lineup(s) that have been used the most frequently this season are Giannis, Middleton, Bledsoe, Lopez, and Wes Matthews. The other most common lineup is the same as above except this time with DiVincenzo for Middleton. So I ask… do you really want the choke-king (credit Dula for the sensational pun) Eric Bledsoe on the floor in crunch time? The dude is a walking turnover and has built all of the local homes with all the bricks hes providing. So who should be their 5 against teams, like them, who give up a ton of threes?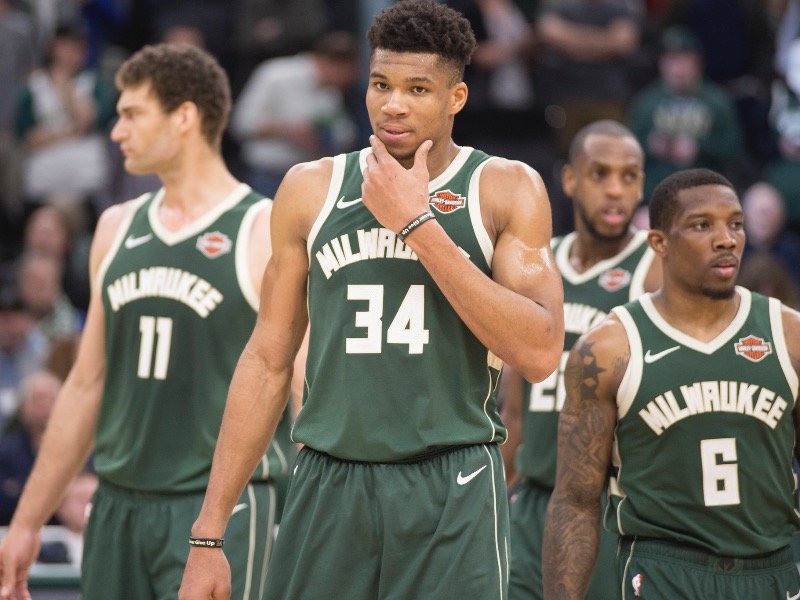 Here are the Bucks tiers of 3-point shooters this year. Keep in mind the league average is 35.7%. I am not including Korver because he will be unplayable (I think) at this point at the end of games.
Tier 1: Middleton (41.8%), George Hill (48%… wow that's so damn good)
Tier 2: Wes Matthews (36.5%)
Tier 3 (below average): Bledsoe (34.8%), DiVincenzo (34.4%), Pat Connaughton (32.1%) and Brook Lopez (29.6%)
First of all… why is Brook allowed to shoot as many threes as he does? Between him and Embiid, it blows my mind. Anyway, down the stretch, it would make sense to play the guys who can shoot the ball (especially against the Celtics or Raptors deeper in the playoffs since they too give up a lot of threes). However, the two most popular lineups for the Bucks contain 2 tier 3 shooters in their most common lineup, and 3 tier 3 shooters in their second most common lineup. Obviously, this has been fine for them during the regular season; but in the postseason when the pressure is on and below-average shooters have to hit big shots, more times than not they'll be missing more than making… a lot more. So who should be that crunch time lineup? I really do not know. If you're playing Toronto, let's say, you need Lopez out there to deal with the bigs they'll throw at you. If you play Boston, you won't really need him out there and could go smaller. Here would be my crunch time lineup for different matchups
Raptors: Giannis, Middleton, Lopez, George Hill, Wes Matthews.
Celtics: Giannis, Middleton, Wes Matthews, George Hill, DiVincenzo
-Think about the Celts crunch time lineup of potentially Kemba, Brown, Tatum, Hayward, and Smart/Theis).
Heat: Giannis, Middleton, Lopez, Wes Matthews, and Bledsoe
-I will give Bledsoe the benefit of the doubt against a team like Miami because they don't give up a whole lot of 3's and Miami really isn't great offensively so the Bucks could just load up on defense here. The fire power for Miami just isn't enough.
Philly: Giannis, Middleton, Lopez, Wes Matthews, DiVincenzo
-DiVincenzo has become a very good 2-way player for them. He would be needed against a long, athletic Philly team down the stretch.
But all of this won't matter for the opponent if they don't find some way to put a tiny dent in Giannis's productivity. There are two schools of thought when it comes to guarding an extremely overbearing player like Giannis. The first is to stop him at all costs and let the others beat you. If the other guys shoot well and play crisp, you accept defeat because you put a stop to the number 1 guy. The other school of thought is to let the main guy go out and keep his usual production but prevent the others from contributing a whole lot and hope that your 5 can outplay their top guy.
We have seen both of these work out sometimes and other times not so much throughout the NBA:
For example, the first approach was done to LeBron in the 07-08 season by the Celtics in the East-semis and it worked. They just collapsed in the middle when he drove and forced him into a bad shot, a turnover, or a teammate for threes. We have also seen it fall to pieces when the Celtics did it down the stretch to the Lakers in the 2010 finals and caused a series of role-players to come up and play huge for them, notably Ron Artest's game-clinching shot in game 7.
The second approach is far less common but was seen a little bit more in recent history. In 2011 Dallas anchored down on Miami's key players outside of LeBron like Bosh and Wade and prevented those guys from being extremely productive in the big moments of that series. LeBron did not play amazing but they worried more about letting LeBron, who didn't have a good playoff reputation then, try to beat them… and it worked. However this approach did not work in the 2003 finals when the Nets sadly allowed MVP Tim Duncan (who had one of the 5 best seasons in NBA history that year) to, with ease, be the best player in that series. He seriously probably could have won that series all by himself.
But which of these will work for opponents against Giannis? Since the Bucks are having a historic season, were on pace for 70 wins, were better than their opponents by 16 points when Giannis is on the floor, and have spotty three-point shooting in their crunch-time lineup, the only way around the Bucks will be for opponents to directly attack the freak himself.
I have compiled a small list of the 5 players on a few contending teams that have the best chance against Giannis. It is actually a pretty interesting and dicey list. The teams I ranked players from were the contenders the Bucks could see at some point in the playoffs: Philly, Miami, Boston, Toronto, and both LA teams.
5) Toronto's front line: This is the only one that is not an individual player. Nick Nurse could definitely come up with a scheme using their gauntlet of different defenses. Nurse has not been afraid to go zone and pack-line this year. Honestly, it isn't a bad idea. If you have Gasol and Ibaka rotating on defense, both capable of doing some damage to Giannis, they won't get too fatigued and would be able to stay fresh with the help of the two tenacious wing defenders in Siakam and Anunoby. When those two guys lock in, they are really fun to watch. Giannis would for sure either see zone, pack-line, or, if they play man, all 4 of these guys each game. It might not be enough to get the whole job done, but it will definitely throw him off for sure.
4) Kawhi Leonard: Do I even need to explain this one? He got the better of Giannis in last year's playoffs and is still, when it matters most, the best 2-way player in the league. Kawhi did a decent job last year guarding Giannis on key possessions. Although, it should be noted, the Raptors depth last year allowed Kawhi breaks from guarding him for most of the games, especially because his offensive load was so heavy. Regardless, Kawhi Leonard is one person that Giannis knows can get the better of him when it comes down to it.
3) Joel Embiid: Embiid would probably be my pragmatic number 1 in the East to guard Giannis. This is part of the reason why healthy Philly is so dangerous. Two guys in Embiid and Simmons, along with an extremely long starting 5 could disrupt Giannis if Philly were to get past Miami. Embiid, in my opinion, when he locks in is just as good on defense as Davis. He cannot get bullied inside and can guard Giannis in all areas within 15 feet of the basket. If Embiid gets in a groove, Giannis could be struggling with finishing at the basket when he's around. Forcing Giannis to take threes will be Philly's ultimate goal.
2) Bam Adebayo: OH YEAH. Let's get a little dicey. Make no mistake, by the time Bam's career is over, he'll be on quite a few all defensive teams and win multiple DPOY awards. He is probably the only guy in the league (other than Jaren Jackson Jr. and Gobert) who has quick enough feet to hang with athletic wings and protect the rim with incredible efficiency. Bam has shown flashes of what he can do against some elite players and he has proved he is the most important player on the Heat. Granted, the Heat don't have enough fire power to hang with the Bucks or the Celtics or the Raptors, but they have Bam as a potential stopper if Giannis was to meet them instead of Philly in the second round.
1) Anthony Davis: If we get the match up that most people think we're going to get, The Lakers are arguably the biggest threat to the Bucks capping off their historic season. If you solely did the eye test and did not look at advanced analytics, Davis would be DPOY. Davis has the most upside to be successful against Giannis over anyone else. Giannis lit up the Lakers when they played, but that was when he hit 5 threes. If he does that multiple games in the playoffs, goodnight everybody. 90% of the league is petrified to be guarded by the brow. Davis's raw defensive numbers this year are 2k-esque.
Is there a clear answer? No there's not. But is there a way to try to stop Giannis, who is having a better season than any apex Shaq season? We'll have to wait and see. Numbers don't lie. If Bud can put together situational lineups in crunch time of these playoff games, the Bucks are the most equipped to win the title. However, if Giannis gets stopped or, more likely, if the Bucks miss a bunch of threes, they could be in trouble.
East Predictions:
Here is what the standings in the East look like right now:
One thing is for sure, the Pacers without Sabonis, will easily slide down and the Sixers will take their spot at 5. But can Philly catch Miami? Let's take a look at their schedules:
Philly: Pacers, Spurs, Wizards, Magic, Blazers, Suns, Raptors, and Rockets.
Miami: Nuggets, Raptors, Celtics, Bucks, Suns, Pacers, Thunder, and Pacers.
This is a tough situation to base predictions off since we have no idea how certain guys will respond to being off for so many months. But if I was being practical, I would say with these schedules, given the health of both teams and the strength of their schedule, I would say Philly goes 6-2 and Miami goes 4-4.
45-28 for Philly and Miami would also be 45-28. This would give us a tiebreaker. Miami would be the 4 and Philly the 5 because Miami is 3-1 against Philly (not like it really matters who is the 4 or the 5 in that series). I expect Orlando to pass the Nets as well. With all of that being said, here is what the playoffs would look like:
1st round
(1) Bucks vs. (8) Nets (4) Heat vs. (5) 76ers (3) Celtics vs. (6) Pacers (2) Raptors vs. (7) Magic
If this was the case, we would see the Bucks, Celtics, and Raptors advance fairly easily. The Heat and 76ers would be extremely fun for the first round. Miami is 3-1 against them this year and has much better advanced numbers. Philly was wildly inconsistent, especially their home vs. road differences. But now, we basically have road games for everybody. Embiid, I'm hearing, is in the best shape he has ever been in in his whole life. I think Philly somewhat puts it together and gets past Miami. This series could go either way.
Bucks win 4-0. Boston wins 4-1. Raptors win 4-1. 76ers win 4-2.
East Semis
(1) Bucks vs. (5) 76ers (2) Raptors vs. (3) Celtics
Healthy Philly being able to throw Simmons and Embiid at Giannis is going to be so much fun. Most people, me included, had Philly in the finals before the season began. The 76ers were set up to have the best starting 5 in the league and were ready to set the East on fire. Plagued with injuries and chemistry problems, they crumbled and could not find a way to win on the road. Brook Lopez has been unreal this season on defense, but will struggle immensely trying to handle Embiid. It will be interesting to see whether we will get full-throttle all-in Embiid for the whole series or if he will take time off. Will they move Simmons off the ball? Will they get Thybulle more minutes? This is, and should be, the final straw for Brett Brown. I still the think the Bucks and their consistency will prevail. However, I think Philly will give them a major scare and is an interesting long-shot bet to make the finals.
Bucks win 4-2. ( I wanna say 4-3 super bad)
This will be one of the most fun match ups of the playoffs. Boston is more talented but Toronto is deeper. Lowry vs. Walker, Tatum vs. Siakam, and the bigs of the Toronto vs. the wings of Boston. Both teams rank in the top 5 defensively and both teams have 2 of the best coaches in the league. This series is bound to go the distance. The Raptors might be able to frustrate the young Celtics because they have so many defensive options to throw at them. Kyle Lowry will likely have a great series. The key for Boston will be whether or not Tatum will transcend and be the best player in the series. If he does, Boston will win. If, however, Nurse throws a bunch of schemes at the Celtics and Lowry torches down the stretch and Siakam continues his 2-way circus, the Raptors will win. The one thing that stands out is the Celtics lack of bigs. Gasol and Ibaka have been so good this year, Daniel Theis can only do so much. The Raptors are just too deep and are all in on putting up a true title defense. I really do think this can be a coin toss. I give the benefit of the doubt to the defending champs.
Raptors win 4-3.
East Finals
(1) Bucks vs. (2) Raptors
The rematch. It is completely different this time. Now, the Bucks will have the best player on the floor. I do think the Raptors depth is more talented than the Bucks. I really do think the Bucks will struggle. The Raptors will be a handful for them defensively. Both teams give up a ton of threes. This will be a huge test for the Bucks perimeter. They're going to have to shoot well to even get to the conference finals; once they're there, they will have to shoot even more threes and hit a higher percentage. I think Nick Nurse will go a lot of zone in this series. The Raptors best defense this season has been when they have done the pack-line. The pack-line will not be as effective as it is against most teams. Being one pass away from guys like Giannis, Middleton, DiVincenzo, and Connaughton, all of which are dynamic cutters, the Bucks will get a lot of baskets at the rim. The Bucks are going to have to shoot through a 2-3 zone and they'll need all hands on deck. I think this series, whether it is the Raptors or the Celtics, will be tighter than everyone thinks. The question rises this year on whether to take the Bucks or the field. My heart won't stop screaming to take the field. My head, however, cannot ignore the advanced analytics and cannot ignore a player's season better than any Shaq season.
Bucks win 4-3.
The West version will come at some point next week. Think about these things before making your playoff predictions and bets. The Bucks aren't just the favorite to win the East, but the favorite to win the title.
Here are the odds for the contenders in the East (FanDuel):
Bucks: -165 Raptors: +600 Celtics: +650 76ers: +750 Heat: +1000
The field is quite tempting. If you have cash to burn, it might not be a bad idea to throw on the Raptors or the Celtics given one of them will make the conference finals for sure.