On March 17th, the first big splash of the NFL offseason will be official. Long time Detroit Lions QB, Matthew Stafford, will officially be traded to the LA Rams for two future 1st Round picks, a future 3rd, and QB Jared Goff.
While this move is pivotal for both franchises (Detroit gets a young QB to potentially build around & a surplus of essential draft picks and LA gets a QB they think reinforces their status as contenders in the NFC again), what most don't realize is how important this move was for the QB market all around the league, and with so many different QBs on the market this offseason, it made me wonder what they be worth based on what the Rams gave up for Stafford.
Teddy Bridgewater
There's a lot to factor in with Teddy. You need to remember that he had one of the more brutal, unfortunate knee injuries in recent memory and it took him a long time before he could even step back on to the football field.
Pre-injury, I thought he had potential to be a middle of the pack, top 15 starter in the league that could guide the right team into possible contention. That's a tough call now though after he played 15 games and threw 11 interceptions to 15 touchdowns.
The upside here is he had a solid 3,700 yards passing and this was his first full season as a starter in FIVE years. There's certainly a chance that he could shake the rust off and change that TD:INT ratio in a positive fashion. Keep in mind, he's also only 28 and could be serviceable for another 5 years or so at least.
There are pros and cons here to making a move to get Teddy, but I could see a rebuilding team with a solid foundation take a chance to see what they could do. Most likely a team with a late 1st round selection that won't get any of the best prospects, but needs a starter would be willing to deal a 3rd round pick to fill the gap for at least a year or two. Carolina could also package Teddy and their 8th overall pick to make a move on a veteran guy they like or to accumulate more future picks.
Face Value: 3rd round pick
Potential Fits: New England, Minnesota, Washington
Carson Wentz
One of the hottest stories since the end of the regular season (and before that even) was the dispute between former Philly HC Doug Pederson and Carson Wentz. It seems as though the two had an "unrepairable" relationship and Wentz wanted out.
Even with the firing of Pederson and the hiring of Nick Sirianni, it seems like Wentz still wants to be traded. It was even discussed that he would be gone within a week or two following the Super Bowl, but we're still waiting on that to happen. I hate to ask, but what do you even give up for a guy who showed MVP, top 5 QB potential, but has struggled ever since a knee injury that has hindered his performance greatly the past 3 years?
Let's think about it. Wentz, as I mentioned, has had MVP potential, so the reward there can be extremely high value, but there can also be minimal value after we saw Wentz struggle throughout the entirety of 2020-2021 and eventually be benched in favor of rookie Jalen Hurts. There's even rumor that Wentz is "uncoachable" and "stubborn", making him very incompatible with any coach whose there to try and help him improve mechanics, decision making, etc. These, of course, are rumors and impossible to confirm as an outsider.
We also need to factor in how terrible the roster is for the Eagles since their Super Bowl victory. The offensive line has quickly digressed since their elite 2017 campaign, and so has the receiving corps. So many times, Wentz would be stuck with a handful of practice squad players and (seemingly) an unmotivated Zach Ertz to throw to, which isn't an ideal situation for ANY quarterback. On top of the downfall from the Super Bowl winning players, GM Howie Roseman has proven to the league that he may just be the worst talent evaluator and drafting executive in the NFL. A team deep in salary trouble, no weapons outside of Miles Sanders and two tight ends, and one of the most inconsistent defenses in the NFL with a GM who fails year in and year out to fill the roster out with youthful talent…. who would want to be here?
I think Wentz has value. He's 28, has shown flashes of being elite, and (with the right coaching and line situation) I think he can take a team to the Super Bowl. Yes, he has tons of room to prove, but if you're a win now team and think you're a QB away, Wentz is proven and wouldn't cost as much as, say, Deshaun Watson (see below).
I still think Wentz would be worth a shot to spend a 1st round pick, and maybe one or two later or future picks, especially if he restructures his expensive contract and has a much less cap hit. You get a solid QB with all the right intangibles of a modern NFL quarterback with a possibility to be elite in the right situation. Is he much more of a risk than any of the prospects in the draft?
Face Value: 1st round pick + future 3rd/4th
Potential Fits: Chicago, Indianapolis, San Francisco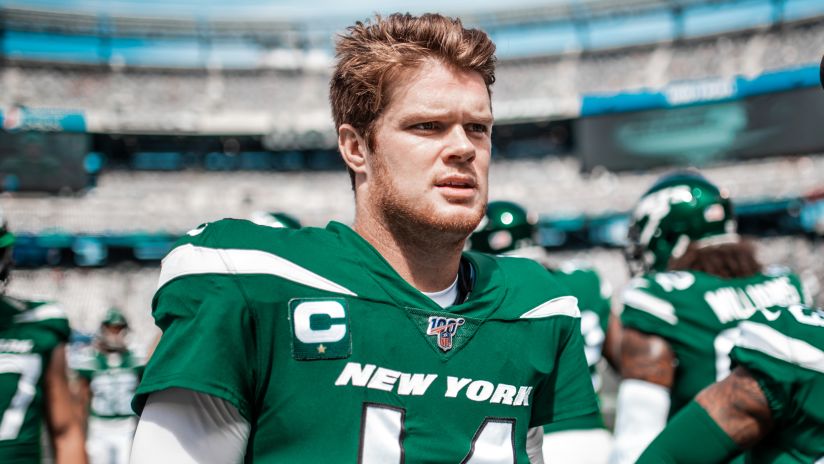 Sam Darnold
Darnold was one of my absolute favorite prospects of the 2018 draft class, but has yet to live up to his potential. He has all the right tools and has significantly improved on his decision making skills since entering the league, but I believe has been held back by an incompetent coaching staff and a lack of talent around him. Since Darnold was drafted, the Jets have ranked 25th (2018), 28th (2019), 29th (2020) in offensive line grades per Pro Football Focus. You add that on top of the lack of offensive weapons and the trading of key defensive players (Jamal Adams and Leonard Williams), and you have one terrible roster.
I think Darnold is still extremely valuable as a trade target. He's still only 23 years old ( a kid in the NFL) and can be extremely accurate and intelligent with the ball when protected. His stats are not good (only one season with more than 3k yards, career TD: INT is 45:39), but he has so much time to improve and rise to his potential stardom. If you've watched any Jets games, you know this kid has something to him that has yet to really be unleashed with the current state of the Jets.
Essentially, trading for Darnold isn't much different than taking a rookie in the draft– only Sam has three seasons of NFL starter experience. I would also probably draft him over any of the prospects not named Trevor Lawrence. Give this kid a line and some decent coaching and see what he can do. The Jets will likely expect some compensation considering what they gave up to get him in the first place, but a package of 2-3 picks could help a team avoid paying a 1st rounder… WHICH IS A STEAL.
Face Value: 2nd Round pick + 3rd round pick + 6th round pick
Potential Fits: Indianapolis, Washington, New England
Russell Wilson
Now, this is one of the more interesting storylines of the offseason so far. There's word that Wilson is extremely frustrated with Seattle's inability to provide a stable offensive line and may ask for a trade. I don't really think it happens this year, but if the trend continues into the 2021 season, I think there's a big chance he leaves. If that's the case, I thought it would be fun to throw his name in the mix for this year's QB market value estimations.
If you watch anything from the NFL (even just the top highlights), you probably know how good Wilson is. Since entering the league, Wilson has proved to be one of the very best QBs in the NFL with excellent mobility, football intelligence, and accuracy while leading Seattle to two Super Bowl appearances. He is a proven winner and elite quarterback– there is NO debate. If this guy is hinting that he wants out, I'd give up a TON to go get him. Just think, Wilson has been in the MVP conversation almost every year despite having one of the worst line protection in the league, imagine what he can do with even just decent guys upfront…
Face Value: 3 first round picks + 2nd round pick + a player of value
Potential Fits: New England, Miami, Pittsburgh
Matt Ryan
There was a time where Atlanta had a timeframe to win a championship, but that ship has sailed. Significant injuries all over the roster and the inability to maintain leads and win games has shut that window rather fast. I see a roster overhaul coming very soon, and Matt Ryan will likely be one of the first to go.
By no means do I think Matt Ryan stinks or is washed up, but I also never really thought he was elite. He did win an MVP and has had some standout years, but I would still mark only throw him in the 12-15 range in terms if QB ranking. He's good, but no Mahomes or Rodgers or Brady or…. you get the point.
The issue with Ryan is the fact that he's 35 years old and has a pretty big cap hit. I'm not sure how many teams would have interest in giving up assets to get him, but IF someone would show interest, I don't think they would have to give up too much. Ideally, he would go somewhere with a solid line and weapons. He could be a cheap trade to make for a contender without a QB. Who knows what he still has in the tank.
Face Value: 4th/5th rounder + a player
Potential Fits: San Francisco, Washington, Minnesota
Jimmy Garoppolo
San Francisco is built to win RIGHT NOW, and Jimmy G is holding them back with his inability to perform in Kyle Shanahan's offense. They need to make a change at QB and would likely package Jimmy and some picks to look for a replacement.
Between his time with the Patriots and 49ers, he has shown he can win, but thrives in very different system than Shanahan runs. What makes a deal very tough is his very unfavorable contract paired with his fairly average stats as a start in San Fran. He would likely need to restructure his deal, and San Fran would likely need to accept a loss with this experiment if they want to compete while they still have their SB ready roster mostly together.
Face Value: 5th round pick
Potential Fits: New England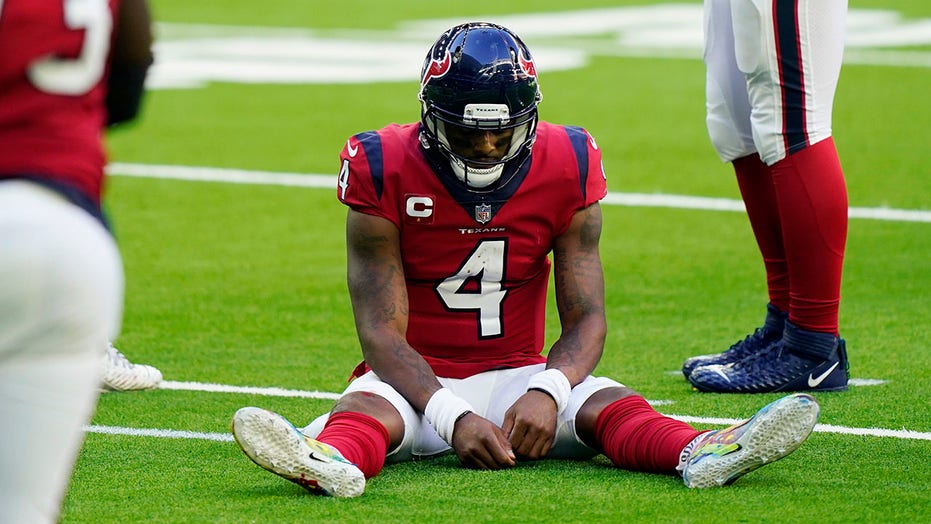 Deshaun Watson
The trade everyone has been waiting anxiously for. Deshaun Watson is BY FAR the best trade option available for all teams. It would be awfully hard to pass on an elite, 25 year old QB with a favorable contract (for his age and talent). I think Watson is good enough to make almost ANY team a contender right now. Aside from Mahomes, he's the next best young stud QB in the NFL.
Watson has excellent pocket instincts and mobility, putting him in a Russell Wilson/Pat Mahomes type category when it comes down to escaping pressure and extending plays. I would even say he's more athletic than the other two and is probably a better, natural runner with the football.
He also is super football intelligent and rarely makes mistakes (only 36 interceptions in 54 career games), and is a proven winner at all levels. With a little help on the offensive line and even just mediocre weapons on offense, and he will turn that team into an automatic playoff squad at the very least.
However, based on his no trade clause and Houston's firm belief that they can "make it work", it's gonna take a lot to actually sway the Houston front office to make a deal. If Stafford was worth 2 first rounders and a 3rd plus Goff, you would need to give a TON to land a younger, better version of him.
Face Value: 3/4 first round picks + 2/3 second round picks + 2/3 late rounders
Potential Fits: San Francisco, Miami, Indianapolis