With the bubble underway, seeds 4-7 and 2 and 3 can change in the West as we approach the playoffs. The play-in-tournament also looks like it is going to be an inevitable result of bubble madness. Here are some thoughts on the biggest question we have in the Western Conference.
Can anyone stop the West Finals from being Lakers vs. Clippers?
If you take a look at the odds to win the title this year on any sportsbook, you'll find that there are 3 teams that they feel have a real chance at winning the title: Lakers, Clippers, and Bucks. We all knew at the start of the season that this was the probable matchup in the conference finals. Do we think any teams have a real chance to put a fork in what would probably be the most-watched conference finals in years?
First, let us take a look at the Lakers and Clippers holistically.
Lakers
The Lakers have no Avery Bradley and possibly no Rondo the rest of the way. Even if they have Rondo he won't be nearly as effective. They acquired Markieff Morris before the hiatus. Their team is somewhat in a similar situation that we have with the Bucks. We have literally no idea who is going to be on the floor for them to close games. The Lakers have played 101 clutch minutes this season (last 5 minutes of regulation or overtime in a game within 5 points). In those minutes they have 10 players who have played at least 10% of those minutes. That is absolutely crazy when thinking about coming up with the lineup they'll use when the going gets tough in the playoffs. The 3 other most common guys in those minutes with LeBron and Davis are KCP, Danny Green and/or Avery Bradley (now it will obviously only be Green), and one of the big men (mostly JaVale). I can hear all the Laker fans screaming that I have forgotten they have playoff LeBron. Although this is a very good argument, it isn't LeBron that scares me; It's Davis.
In the 4th quarter or overtime this year, Anthony Davis is shooting 18 for 63 (28.6%) on shots 15 feet or longer. For a guy who is the most talented power forward I have ever seen, he needs to stop taking jumpers late in games. How many times have you watched Davis face-up on his defender, take a dribble, and step back for a fadeaway 2-pointer from 20 feet away? We tend to say that guys like Davis and Embiid "can shoot". Yes, they can shoot but they take low percentage shots at high volumes and it hurts their teams drastically.
I'm not saying he should never shoot 3's. Of course, when he has good looks he should. But more times than not he isn't shooting catch-and-shoot 3's, he is stepping into them while facing up on a guy he can easily take to the basket. If you look at the games so far in the bubble where Davis dropped our mouths to the floor, you'll see that he was attacking the basket and making plays around the rim that nobody else in the last century could make. If he sticks to the things he is really good at which is rolling to the rim, PnR's with LeBron, and driving and spinning off bigs who are either not quick enough to guard him or just can't match his finishing ability at the rim, he'll put the Lakers in a very very good position to be successful.
I don't worry about their defense at all. Davis is good enough to anchor it all by himself but LeBron and the other wings can really hunker down and play well down the stretch of tough games. Their 3rd ranked defense in the league should stay pretty steady.
Clippers
Once Harrell gets back to the bubble and clears quarantine, the Clippers will be back to 100%. If you think about it, between Paul George missing the first few games and Kawhi taking his usual load management, the Clippers did not have a whole lot of time to get into a groove. They are 6.5 points better than their opponents which is pretty good for a team with inconsistent lineups throughout. They have the 3rd best offense in the league which actually kind of surprises me given how much of a gauntlet they are defensively. Are there really a whole lot of flaws with this team? They have the 2 best 2-way players in the league, the best bench in the league, a championship coach, and are the best rim-protecting team in the West. I have believed for the past year and a half that the best player in the league that I would want on my team to win the title is Kawhi Leonard and I still think that now. Kawhi would have finished in the top 3 in MVP and top 3 in DPOY if he hadn't done his usual load management. The Clippers are, no shocker here, almost 12 points better with Kawhi on the floor compared to when he is off.
Paul George is having another really good year and has actually accepted being 1B to Kawhi quite nicely. He is making spot-up 3's at the highest rate of his career and is taking good mid-range shots that haven't been forced. George and Leonard provide the firepower and the other guys play off of them exceptionally.
The Lou Will and Harrell pick and roll is the most used as well as one of the most successful plays in the whole league. The addition of Marcus Morris gives them an above average spot-up shooter who can play both ends. If we really take a step back and look at this team, they have so many different lineups that are each very successful and don't really have a whole lot of flaws.
So… Who are the pretenders and who are the contenders?
Here is a look at the current standings in the Western Conference: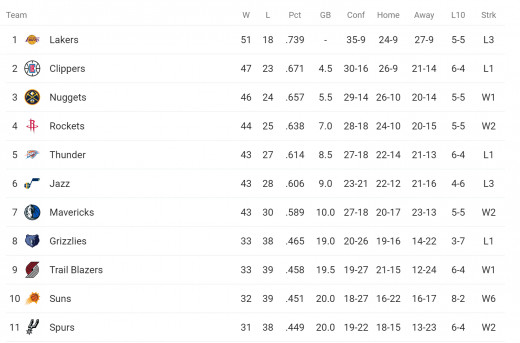 If we look at this we can see that the Rockets, Thunder, Jazz, and Mavs could all switch before the final half of the regular season bubble is over. But for now, let us assume that all of these teams could move and possibly match up with either the Lakers or the Clippers down the stretch. Who of the teams remaining have a decent shot?
The Pretenders
The Kings, Pelicans, Spurs, Suns, and Grizzlies would all get beaten badly by the Lakers and Clippers. Memphis holds the lead for now, but if Portland makes their way into this play-in-tournament they will fall out.
We knew that those teams were pretenders, but are there any teams that are pretenders from the 3-7 seeds?
Utah Jazz: The overwhelming majority of their minutes played this year, especially in crunch time, have had Bojan Bogdanovic in them. His loss is one of the biggest for any team at the bubble. Their 4 most common lineups that accumulate 1,700 total minutes this season had Bojan in them. He played in nearly 80% of their minutes during the course of their whole season. He was the most clutch player on the team and was their best spot-up shooter. His loss takes them completely out of the equation. Even if Conley turns back the clock a few years and Mitchell has a great playoff run, they don't have the firepower to not only hang with the Lakers and Clippers, but they won't be able to beat Denver, Houston, OKC, Portland, or maybe even Dallas at this point in a seven-game series. Without Bojan, who makes the Jazz 8 points better when he is on the floor, they have a dearth of playmakers outside of Mitchell. Gobert has been amazing once again defensively but he has no ability to create any sort of offense once he has the ball. With Conley struggling, Bojan out, and a loaded West, they are likely the pretenders.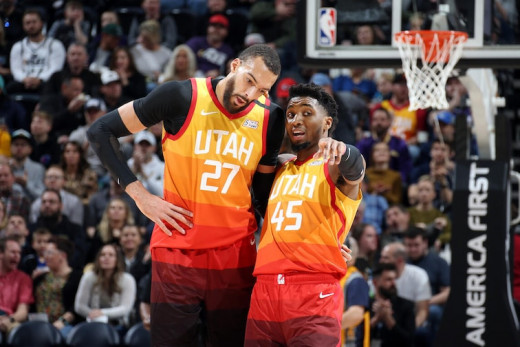 Denver Nuggets: Their defense has somehow gotten worse and worse as the season has gone on. They were good at the beginning of the year, bad after the trade deadline, and horrible in the bubble. Granted, some of their pieces have not been playing. Skinny Jokic has worked out to some extent. This team definitely does not have the firepower to stop the Clippers or the Lakers. The problem with them is they need 1 or 2 guys who can solely focus on guarding the wings of both of those teams. Gary Harris is a good defender but he is relied on offense too much to really hunker down on either LeBron or Kawhi. We also never really know what kind of Jamal Murray we are going to get. Michael Porter Jr. has come storming out and has been unstoppable on offense. I knew this was coming (go check my tweets from earlier this year about how I was confused as to why he wasn't playing more minutes). But the Nuggets are relatively consistent and have very good role players around Jokic. The main things with them that are huge question marks right now is how good can skinny Jokic stay in a playoff series, if Jamal Murray can become consistent, and if they can find some sort of real offense besides those 2 guys (at this point Porter Jr.). Grant has been a nice player for them this season. His impact on defense is good… according to the eye test. Advanced stats go the other way. The Nuggets are actually nearly 13 points worse with him on the floor per 100 possessions. Why is that? Well, we know that the Nuggets play a lot of pick and roll offense with guys trying to cut from the backside for easy layups. Defensively they trap the lane and force a ton… A TON… of corner 3's. Looking at the way every team is playing in the bubble right now, I am not sure I can pick them to win their first-round series at this point unless someone like Dallas moves up. Even then I wouldn't be so sure unless they were handed the gift of playing Utah.
The Long Shot Contenders
When I say "long shot" I basically mean these teams have a chance to scare the heck out of the Lakers and Clippers but not necessarily beat them.
Dallas Mavericks: The number 1 offense in the history of the league (116.5 ORtg). They are actually top 10 in both offense and defense and lost an integral piece in Dwight Powell. I will say, Porzingis hasn't been good, he has been excellent. They are nearly 16 points better with him on the floor as their center. He has been shooting a ton of 3's but he, unlike Embiid or Lopez, is shooting them at a very nice rate. Doncic and Porzingis with 3 other wings on the floor are +13 per 100 possessions. They are +11 per 100 possessions with Porzingis and NOT Luka. Those numbers are crazy good. This shows me that they absolutely have their crunch time lineup. Luka, Porzingis, Curry, Finney-Smith, and Hardaway. This team knows who they are, knows what their roles are, and play them very very well. Luka Doncic is the best 21-year-old player in the history of the league. He has the best vision, most poise, and one of the best step-back jumpers I've ever seen in my life. He made one of the best passes I've ever seen in my life the other night when he threw a pocket bounce pass through his legs with his off-hand. Seriously, this dude is going to win multiple MVP's. They shoot the 2nd most 3's in the league, are 29th in shots at the rim, and play a very slow-paced offense. They barely turn the ball over and are a perfect upset potential team to take the Clippers to 6 or 7 games in the first round. This team has exceeded expectations.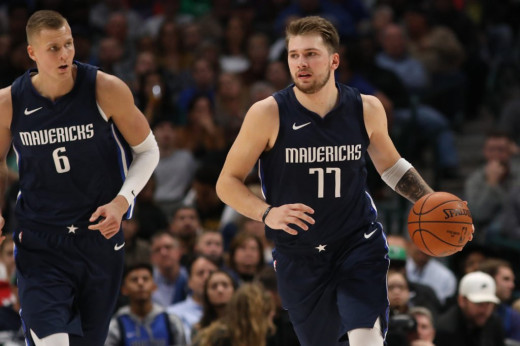 Oklahoma City Thunder: Another team here who knows who they are and are extremely established in what they are capable of. They know who the crunch time lineup is, they know who "the guy" is, and they know who plays what role. This team, an afterthought at the beginning of the year, has outplayed all expectations given to them. Chris Paul has one of the best on/off stats in the league. Their crunch time lineup of Adams with the 4 perimeter guys in Gallinari, Shai, Chris Paul, and Schroder is +26.8. Schroder, in my opinion, is the 6th man of the year. Chris Paul is arguably having one of the 5 best seasons of his career. He is also the most clutch player in the league and it's actually not even close. The problem with them is they demolish all of the under .500 and have a horrible record against teams above .500. Dort, Bazely, and Ferguson are really nice role players. Their defensive numbers lately have been up and they can really hang with anyone. They are a matchup nightmare for the Lakers and can seriously hang with the Clippers. When they play small teams, Steven Adams looks like Shaq. When they play bigger teams, they exploit their wing depth with their above-average guard play. This team is pretty dangerous. If they can get hot and allow Chirs Paul to close out games, they can make some serious noise.
The Contenders
These teams are serious threats to the Lakers and Clippers if they were to advance on in the playoffs.
Portland Trailblazers: Collins and Nurkic are back and every game I have watched of theirs in the bubble has shown the reason why they are the reigning Western Conference runner-up. Lillard is playing like 1 of the 5 best players in the league right now. Whiteside did a decent job of covering for Nurkic but Nurkic makes this team so much better. Watching the Blazers at their lowest point this year was painful because Whiteside never knew what was going on and didn't even try to understand. He is constantly looking at Dame wondering where he needs to be. But with Nurkic, the Blazers have 3 different sets they can do which give Lillard the freedom to either do the work himself, hit the cutting big, or kick out to shooters on the wings or in the corners. Gary Trent Jr. has been one of the best players in the bubble, shooting over 60% on 3's. Trent allows the Blazers the ability to press later in games and allows Dame to kick out to another above-average shooter when he is doubled. Melo hitting a shockingly high number of catch-and-shoot 3's and the rest of the team taking really high-quality shots, things are looking up for Portland. With one of the best rim-runners in the league back in Nurkic, the reliance on some decent young players, and with the Blazers core back, we can't count them out of a playoff series. If they get into the play-in against Memphis, expect them to absolutely roll them. If they get 8 seed, the Lakers can seriously be in trouble. With healthy Nurkic, the Lakers are very beatable.
Houston Rockets: The obvious choice here for the biggest threat to the Clippers and the Lakers. James Harden is (still) the best offensive player in the league. Harden won't be the reason the Rockets lose in the playoffs, it'll be Westbrook. Westbrook turned his season around in January and pumped out the most efficient season of his career. Russ, who used to shoot nearly 7 3's a game at under 31%, has stopped shooting a lot and has done a lot of drive and kick. Every time Russ catches the ball near the 3-point line he has about 6 feet of space to shoot a wide-open 3 but he doesn't. He is much more aware of the shot clock and most of those possession results in a Rocket basket. He also has limited the number of pull-up 15-footers he was shooting in recent years as well. He would shoot those at horrific percentages and take 10-12 of them a game. Now, he is getting nearly all of his points at the rim. Russel Westbrook is the single most important piece if they are to advance far into the playoffs. This team is so dangerous because they shoot the most 3's in the league. If one night, let's say, they go 20-42 on 3's in a series, they are beating any team in the league. That probably won't be a recurring thing if it does happen but we have seen it. Their small-ball lineup has allowed them to throw different options at elite wings. Although they are obviously getting out-rebounded by opponents by a lot since the trade, they have actually posted much better advanced numbers with their small-ball lineup. If Harden can continue what he is doing and Westbrook continues to be smart with the ball and maybe limit the turnovers (just a bit), they have a real shot at knocking off the Clippers or Lakers.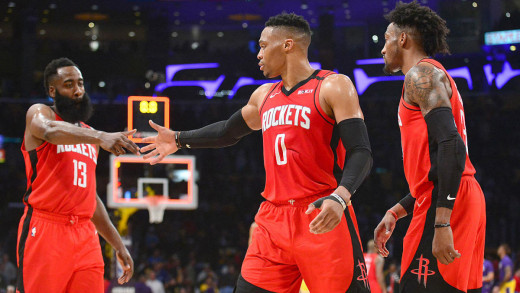 Predictions
With all that being said, the predictions for the West playoffs are going to be a little bit more difficult due to the fact that the standings can change over these next few days before the play-in. But, I will try to predict the matchups and go from there.
Play-In Tournament
Since Memphis is not going to finish 4 games ahead of the 9 seed, we're going to have a play-in. It looks like they will play either the Suns or the Blazers. Give me the Blazers. With the being said, Memphis will have to match up with the healthy Blazers. If Memphis gets the 8 seed, they will have to beat Portland only 1 time. Portland would have to beat Memphis twice to advance. Let's give Memphis the benefit of the doubt and say they finish the season as the 8.
(8) Memphis Grizzlies vs. (9) Portland Trailblazers
Memphis will be without Jaren Jackson Jr. who is right now their 2nd best player. With nobody to be able to guard both bigs and the perimeter, the Grizzlies will struggle to handle the front line that Portland will put up. Damian Lillard is just too good in the playoffs and will outplay Ja Morant a thousand times over. Memphis will try to hang with a red hot Blazers team while backed into a corner.
Portland wins 2-0
1st Round
I am going to assume that the standings for the West are actually going to stay the same at this point. With that being said, here is what the first round would look like:
(1) Lakers vs. (9) Blazers
(2) Clippers vs. (7) Mavericks
(3) Nuggets vs. (6) Jazz
(4) Rockets vs. (5) Thunder
The only thing that I really see as possibly changing here is OKC and Utah switching at the 5 and 6. If that happens, I have a hypothetical for that scenario after I finish predicting what I have listed.
I expect Houston to, as they did last year, dominate the first round. Houston put on a shooting clinic and went small to bring Gobert away from the basket. At the end of games, Gobert was unplayable and the Rockets got anything they wanted, whether it was from 3 or at the rim. I expect this to happen in a similar fashion due to the fact that Adams will not be unplayable late in games in this series. I do think OKC can really hang tough with this team and they can force 6 or 7 games. But OKC won't be able to keep up with small ball rockets and Harden will be out to prove he can perform in the playoffs. The backstory for this one is the obvious point guard switch with Westbrook and Chris Paul. Should be one of the most fun series to watch in the first round.
Rockets wins 4-2
This 3-6 matchup is very enticing and very unfortunate for Utah. Bojan would have been an enormous help in this series against a young team. Jokic vs. Gobert should be relatively interesting. The Nuggets have the clear advantage here because Jokic will bring Gobert out to the perimeter, similar to what Houston did in the 1st round of last year's players. Denver has excellent cutting wing players and they will use that to their advantage. With Gobert away from the basket, they should get a lot of quality looks near the basket. With Mitchell really being the only above-average playmaker on this team right now (sorry Mike Conely), Denver will have room for error.
Denver wins 4-2
I really like what Dallas has done this season. The paragraph I wrote on them earlier is really encouraging for them going into the postseason. They would, however, have a much better chance at beating the Lakers than they do the Clippers. Luka, who has the highest usage rate in the league, will have to deal with being pestered by Kawhi, George, and Beverly all at different times of the game. Each time, the defender will be somewhat fresh. If you can knock down Luka's productivity, you can take care of the Mavs relatively quickly. Let's be honest, pound for pound in the postseason, the Clippers are going to be the toughest out in the league.
Clippers win 4-1 (I want to say 4-2 super bad)
Finally, the Lakers and Blazers will be an extremely entertaining series. The Blazers will come in with the attitude that they have nothing to lose because they were very far behind before the bubble started. The Lakers, especially LeBron, have so much hanging on this playoff run. It takes a special kind of person to challenge LeBron James in playoff basketball. Damian Lillard is definitely one of those guys. This series could go the distance. With the Lakers having no Avery Bradley, their best on-ball defender, it is a huge loss in a series like this. Bradley's main purpose this season was to guard the other team's best guard for 30 minutes; he did this quite well. With him not able to do it, someone else will have to. LeBron will have a great series and so will Lillard. But it will be the guys like Davis, McCollum, Danny green, or even Gary Trent Jr. that decide these games. Get ready for a movie. This series has upset written all over it… but LeBron has too much to lose.
Lakers win 4-2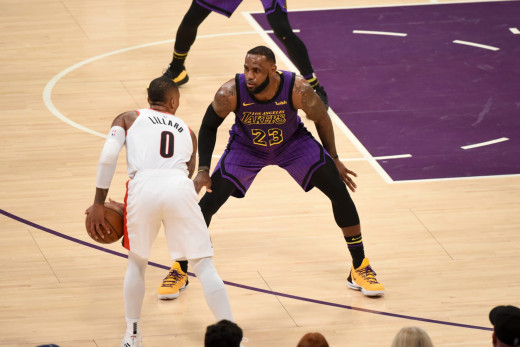 Conference Semi-Finals
(1) Lakers vs. (4) Rockets
(2) Clippers vs. (6) Thunder
The Lakers are really getting the short end of the stick here. The Clippers get to pay two teams they are much better than.
I expect the Clips to take full advantage of their depth being far better than Oklahoma City's. Chris Paul will be met, as Luka was, with the 3-headed monster of wing defenders. This is a series where the Harrell and Lou Will pick-and-roll will have a whole of success. The thunder have very talented wings offensively but won't be able to even remotely contain playoff Kawhi as well as Paul George. The Clippers haven't had their whole team back yet. Once they take the 1st round to get back into the swing of things, they're going to be all hands on deck for the semis.
Clippers win 4-2
Harden understands that his playoff performance has been scrutinized his whole career. Does he get enough credit for being one of the 5 best offensive players of all time? No, he doesn't. But his playoff failures are something he doesn't want to repeat any longer. He and LeBron have A LOT on the line. LeBron definitely has more, but Harden is ready for a breakout. I seriously think Houston has a huge chance to knock the Lakers off here. It isn't just a "pick one team who is best equipped to challenge them" kind of thing. I legitimately would not be surprised if Houston won in 6 or 7 games. I think this series heavily depends on which one of Davis or Westbrook is more inefficient and which one takes those terrible long 2's or 3's that they both tend to take. I want to pick Houston super bad. LIKE SUPER BAD. LeBron, however, has way too much on the line here.
Lakers win 4-3
Conference Finals
(1) Lakers vs. (2) Clippers
Although I do think Houston and Portland have puncher's chances to knock off the Lakers, I can't help but be petrified to be betting against a rested and angry playoff LeBron. But this was destined to happen ever since we found out Kawhi was going to be joined by Paul George in LA.
This series gets a whole lot more interesting now that we are in the bubble… here's why:
The Lakers and Clippers would not have had to travel for this series if we were in a world without COVID-19. This would have heavily hurt the Clippers. LA will always be a Laker town. This means that no matter how many games this series goes, the Lakers would have been home for every single game. The number of Laker fans outnumber the Clipper fans by AT LEAST 5x. The Lakers would have been the favorite, and still probably will be, in this series. They will have gone through a much more difficult road than the Clippers. Do we really expect Anthony Davis to stay fully healthy for 3 straight rounds of the playoffs?
Not only does the bubble allow the Clippers to not have to deal with being the road team for 6 or 7 straight games, but they are just the better team. Their perimeter is better, their off-ball defense is better, and… I think playoff Kawhi has surpassed playoff LeBron. Yes, LeBron outplayed Kawhi and everyone else in their most recent meeting in the bubble. But the Clippers did not have Lou Will or Harrell and they still nearly won the game. The Lakers will be thin on the wings, drained from their previous rounds, and unable to contain Kawhi Leonard down the stretch of games. I really hope this series goes the distance. It will most likely be even more watched than any of the Warrior's conference finals. Get ready for 1 of the best 7 game series of the decade.
Clippers win 4-3.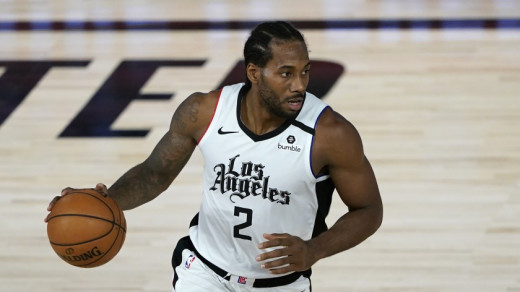 FYI
The Thunder and Jazz in the 1st round for the 5 and 6 really will come down to the final day. OKC owns the tie-breaker. At this point, OKC plays Miami and the Clippers to end the year while the Jazz have 1 more game against the Spurs. Right now I have the Thunder as the 5 and the Jazz as the 6. But it should be noted if they flip…this is how I predict the playoffs to go down:
The Lakers and Clippers still advance
(3) Denver vs. (6) Thunder
(4) Rockets vs. (5) Jazz
Here, the Jazz will lose badly to Houston (4-1). OKC, however, beats Denver here in 6 games. Chris Paul would be the best player in the series. That brings us to the later round where both the Rockets and the Thunder lose to the Lakers and Clippers respectively.
Wrap-Up
Realistically, the Clippers are the best team in the league. You can still get them at +320 to win the title and I suggest you take it. The West has been wild this year but one thing is for sure, the Western Conference Finals will apex mountain of this NBA season.
*All stats taken from basketball reference*